I haven't seen the Chelsea Flower Show for years, but it just so happens that I'm back home, and it's on TV, so I'm enjoying seeing lots of wonderful flowers and plants in amazing arrangements. I can only dream of such perfection. I do have, sad to say, a bit of a black thumb – I can kill any plant, even the ones people say are really robust.
In our own garden, we do have a bit of a challenge: we have a huge swath of the garden that is bare, after the Great Hosta Disaster of 2015. (We got a gardener in to help sort out a few issues before autumn set in, but instead of helping she basically over-interpreted my requests and stripped our garden of the hostas that had filled in the space under one of our trees.)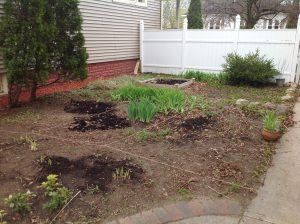 Last year, I tried to fill in the huge gaps left, with some but not much success and we ended up with a large part of the garden rewilded*. This year, we are going for a very different solution, and instead of trying to do careful planting on the vast empty area, marked out by string in the photo above, I'm going to plant millet, rudbeckia and flax en masse. I would have planted it before I left, but you have to keep seeds well watered, and I didn't want to impose on the neighbours. So that will be my first task when I get home.
I've also planted up a lot of pots.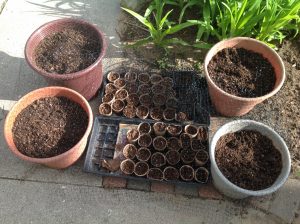 The four big pots have taller plants in the middle and smaller ones round the outside, mixes of larkspur, delphinium and rudbeckia with alyssum and pansies. Then in the small plantable pots, I have all sorts, including more larkspur, asters, nasturtium, and four climbing plants, including morning glory, a climbing nasturtium and a couple of others I've forgotten (but have taken a note of!).
Last year our vegetable garden was destroyed by voles, so this year we're just doing strawberries, which they don't seem to care about, and edamame, which I'm trying to grow from seed. I'm not bothering with carrots again, after this dismal showing: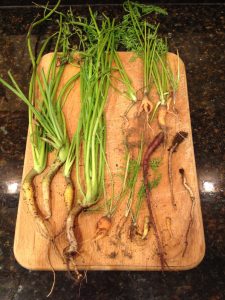 But it has been three or four weeks now since I sowed my seeds, and I am excited to know how many, if any, have come up! Expect a report back next week, hopefully with progress.
* Full of weeds.
{ Comments on this entry are closed }