If Teen Vogue has taught me anything, it's that girls and women can care about politics and having nice nails. Enjoying dying your hair or fashion or having nice nails is not a sign of intellectual poverty, it's a sign of being a normal human being.
Now, last year, for Ada Lovelace Day, I wanted nice nails but didn't have time to get a manicure, so I cheated. I bought some stick-on nails and, whilst they looked fantastic at the time, the seal to the nail wasn't all that tight and my hair would get caught underneath them. So just a few days later, I prised them off and, well, ripped the top layer of nail off with them. My nails were, not to put too fine a point on it, fucked.
For the next few months, I used other stick-on nails, though I was much more careful about removing them. But come February, I was fed up of falsies so I invested in a Gelish DIY gel kit and am slowly learning my way round it.
These so-called "soak off" nail polishes are cured by narrow-band LED UV lights, and they cure hard. Really hard. Which means that they are much more durable than air-dried nail varnishes. That's great, because my nails are weak and bendy, and normal nail varnishes begin to peel off within a day. Or less.
Gelish is just one of many brands, but it got the best reviews so that's what I plumped for. So far, I'm relatively happy, but there are tricks one needs to learn in order to get the best out of it.
The kit came with a light, nail prep ("ph Bond"), base coat, five colours, top coat, nail cleanser and gel remover. The colours were a bit disappointing – three pinks (one sparkly transparent), a forest green and a plum. I'm not a fan of pink, so getting three was annoying. My first attempt at doing my nails didn't go too badly, and I used the plum with one nail getting an extra layer of the sparkly transparent.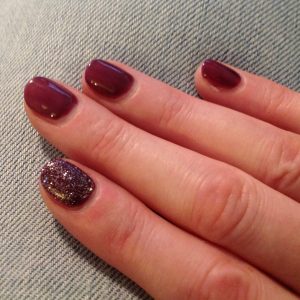 Not a bad job!
I've since acquired quite a few more colours, and will write more about how the different colours behave, because they are not all created equal!
Overall, I'm pretty happy with the Gelish nails, even if it's not quite as durable as they claim, nor quite as easy to get off. Compared with normal nail varnish, though, there's no comparison. The only way I could do a better job would be to go and get a professional manicure, so overall, I'm happy.
So thank you, Teen Vogue, for teaching me that there's nothing wrong with wanting nice nails!
{ Comments on this entry are closed }