Fiction
Novellas
Every year, on May Day, a young woman is stolen away by the faeries to become their Queen for a year. This year, a young botanist called Shakti finds herself tricked into becoming faerie royalty. As she stands trapped in her new body, she can do nothing but watch as the previous Queen, herself once just a normal human, takes on Shakti's likeness and walks away with her life.
This year, though, the faeries have bitten off more than they can chew. Shakti will do whatever it takes to get her own life back. As she struggles to work out how to get home, she uncovers Faerie's dark secret and finds that she is not the only human who needs saving.
Queen of the May will be made available to newsletter subscribers soon!
Matt is fascinated by the story of Argleton, the unreal town that appeared on GeoMaps but which doesn't actually exist. No one knows how the mistake made its way into the most widely used map in the world. Accusations that it was a 'copyright trap' intended to catch out businesses using the map data without paying for a licence are vigorously denied. GeoMaps promises to remove the anomaly but yet, it persists.
Finally, Matt can resist no longer. He persuades his friend and flatmate Charlie to drive them both down to to find the non-existent town. And when they are standing on the very spot, at the exact longitude and latitude that defines Argleton, Matt sets in motion a chain of events that will take him places he didn't know existed… and which perhaps don't.
You can read Argleton here on my website right now if you'd like, and the ebook will soon be made available to my newsletter subscribers soon.
The Gates of Balawat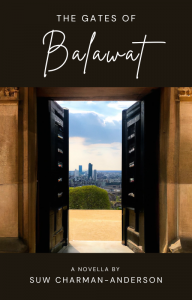 Ella stumbles on a strange mystery in her favourite museum. To resolve it, she must make a life-changing decision.
An aspiring artist, Ella spends a lot of time wandering round London's museums and art galleries, learning from the masters whilst trying to pick up the courage to turn her passion in to a career. Sketching in the Assyrian gallery in the capital's biggest museum, she becomes entranced by a fellow artist who is struggling with the same career challenges and who shares her habit of daily practice. But why does he never remember her? And what is it about him that's always just slightly wrong?
Download the ebook or read now on Word Count.
Short Stories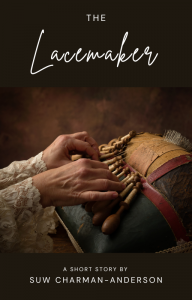 All the threads looked the same to the innocent eye, but Maude could see the black heart running up through one strand as it wove its way through the lace roundel.
"How on earth do you manage it?" the woman asked, as she looked at the mats on the craft fair stall. Maude chose to treat the question as a rhetorical one and busied herself with tidying her bobbins as the woman browsed.
"I'll take this one," the woman said, holding up a square piece, twelve inches across. Maude winced, picked up the piece she had just completed and held it out to the woman for her consideration.
The Lacemaker will be made available to newsletter subscribers soon.