Hi there,
January is finally over so it's a good time to take a look at how the year has started. I don't do New Years Resolutions, I do habits and, looking back on the month, I've done pretty well. I'm still practicing my Welsh and flossing daily, averaging 6,500 steps a day (1,500 more than January 2022), writing at least 5 days a week, and doing physio for my dicky back. My habits feel firmly set, so I'm hoping for a productive year!
Read this: Why writing deadlines are good for writers
Over on Shore Scripts, Olivia Brennan extolls the virtue of deadlines. 'Deadline' is a bit of a dirty word for a lot of people, bringing up memories of school or university projects done hurriedly at the last minute. But deadlines, even self-imposed ones, are helpful and something to be embraced. They make you pace your work, keep you focused, and help you prioritise. If you're not already using deadlines, take a look at Brennan's article which is full of good tips.
You might at this point be wondering if I hit my own deadline for finishing the edit on Tag, my urban fantasy script, and I have to admit that no, I did not. But having that deadline at the end of January forced me to really knuckle down and sort out the plot and issues with my MacGuffin, which was what had been holding me up. All I need to do now is get on with it, although it's clear that there's a lot more it to be getting on with than I had previously thought. That's fine. I'm in the groove, I'll get it done.
Read this, too: Top 10 tips from Neil Gaiman on being a writer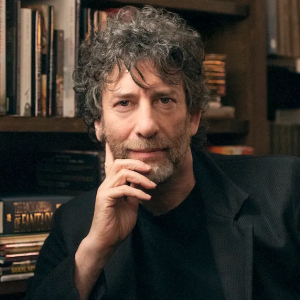 Neil Gaiman is one of my favourite writers and, indeed, one of my favourite people. He is a prolific writer across multiple formats and genres with far too many comics, books, films and TV shows to list (and anyway, Wikipedia has done a pretty comprehensive job of that).
Bang2Write has compiled ten of Neil's tips for writers and, as you might imagine, every one of them is a gem.
I particularly like No. 3: 'Emotional truth is everything', though for reasons additional to those that Bang2Write gives. Emotions drive stories. Characters make decisions and take actions based on the emotions they are feeling. But if your characters' emotions aren't true, then the whole edifice falls over.
Thread of the week: Quenby Olson on self-promotion
Quenby Olson, author of the fabulously titled Miss Percy's Pocket Guide to the Care and Feeding of British Dragons (which I must now read!) wrote a short-ish thread on the fact that in publishing, the cream does not rise to the top without promotion.
One of the greatest lies in publishing is that if your work is good enough, people will discover it on their own. It makes self-published/lower trad-pubbed authors look bad when they have to promote their work, and implies that if readers don't find you, you suck.
We all know that we have to become comfortable with self-promotion if we want people to find our work, but Olson points out the snobbery around self-promotion is predicated on the lie that people will naturally find good work. They won't. So don't judge yourself or others on the fact that you have to self-promote.
New project: Why Aren't I Writing?
OK, OK, I know I probably shouldn't be starting a new project right now because I have more than enough going on, but after spending some time chatting with a friend on Friday about Substack, I've decided to start one as an experiment.
Why Aren't I Writing? will explore the different types of things that get in the way of our writing and what we can do to either remove or climb over these blocks. I'm hoping to post every couple of weeks, so head over there now to make sure you don't miss out!
As a result, this newsletter might have to get a bit shorter or move to a fortnightly schedule, just so that I have time to fit everything in. But I'm excited to see whether Substack is as good as they say it is.
Obligatory cat picture
Back in 2009, when we first adopted Grabbity, our plan was to just have one kitten. She came from a litter of eight, but all the others were spoken for and we weren't sure we could fit two cats in our flat.
A week after we picked her up, my friend called to say that they had a kitten going spare because he had a heart murmur and the adopters had said they didn't want 'a cat that wasn't perfect'. I took 30 seconds to think about it and said yes. We went to pick Sir Izacat Mewton up the next weekend.
Cats do not have familial memory. Once separated, they don't have the ability to recognise a littermate as related. So Grabbity, having had two weeks on her own, viewed Mewton with extreme suspicion. Mewton, having come straight from a home where he was still surrounded by siblings, did not care one jot what Grabbity thought.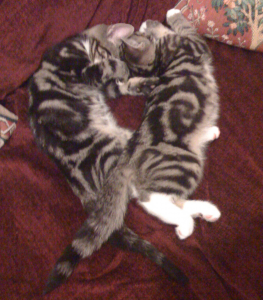 After a slightly rocky reintroduction, we shut them in the lounge together overnight and hoped for the best.
I was somewhat nervous, come the morning, to see how they had acclimatised, but I was greeted by this slightly fuzzy heap. That's Mewton on the left and Grabbity on the right. We knew then that they were going to be fine!
All the best,
Suw
PS Please don't forget that if you want to find new newsletters to subscribe to, The Sample is for you. Every day, you'll get a new sample newsletter delivered to your inbox and if you like it,  you can subscribe. And if you join using this link, then they'll forward my newsletter on to more people. It's a win-win!
{ Comments on this entry are closed }