Hi there,
Welcome to the final Word Count of the year!
When I started this newsletter in May, I didn't think I'd manage to keep a weekly rhythm going, but I've found writing this newsletter a real joy. I hope you've found it a joy to read as well!
I'm taking a two week break over Christmas, so the next newsletter will land in your inbox on 10 January. I intend to spend the second half of that fortnight working on Tag, the six part urban fantasy TV series that I promised you I'd finish by the end of, oh, yes, er, January. I haven't done a thing in the three weeks since I made that promise, so I think there's going to have to be an intense flurry of work after Christmas to make any kind of progress at all. But it'll be good to get back into it!
Don't forget The Gates of Balawat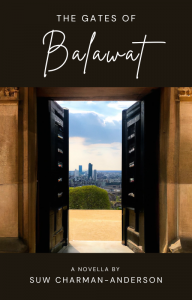 If you missed last week's newsletter, you'll be delighted to know that you can now download your free copy of my urban fantasy novella, The Gates of Balawat (for those not subscribed to my email, just sign up now and you'll get a download link as soon as you've confirmed your subscription).
Ella stumbles on a strange mystery in her favourite museum. To resolve it, she must make a life-changing decision.
An aspiring artist, Ella spends a lot of time wandering round London's museums and art galleries, learning from the masters whilst trying to pick up the courage to turn her passion in to a career. Sketching in the Assyrian gallery in the capital's biggest museum, she becomes entranced by a fellow artist who is struggling with the same career challenges and who shares her habit of daily practice. But why does he never remember her? And what is it about him that's always just slightly wrong? 
Those of you who did read last week's newsletter might be thinking, "Wait a minute! That's a different cover!" and yes, yes it is. I'm not the world's best graphic designer, and it's amazing what you can do with Canva, but the first cover just didn't bring me joy. I'd gone to the British Museum to get a photo of the replica of the Balawat Gates, but I'm also not the world's best photographer and all the photos looked rather lacklustre.
Enter Dall?E 2, an AI that produces images based on a text prompt. After half an hour of refining prompts, I managed to get a reasonable image that I think conveys the heart of the story quite well. It's perhaps a bit wobbly in places, if you look too closely, but it's a step up from the photo.
So do pop along and grab your copy of The Gates of Balawat to read over the holidays. And if you know someone who might also enjoy it, please encourage them to sign up for my newsletter so that they too can get the free download link!
Tiny books!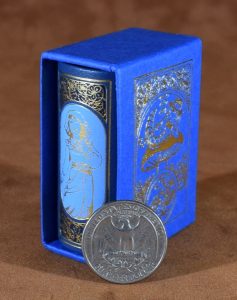 I love tiny books. In fact, I used to make my own tiny book pendants to wear. But these tiny books are exquisite.
This Alice in Wonderland is just 38 x 53 mm, has 512 pages, and comes with its own perfectly formed slipcase. And at just €24.80, or about £21.60, these are a bargain. The company that makes them is German, but they do have a selection of English language titles as well as three Shakespeares. They even have a 'micro minituren' category, which are even smaller at just 18 x 26 mm.
Possibly too late for Christmas, but definitely something to put on your birthday list!
Sample The Sample
If you loved that bit about tiny books, I found it in the Say, Oh Say! newsletter, which I in turn discovered via The Sample, a newsletter of, well, newsletter samples. Every day, The Sample sends you a new issue of a random newsletter and if you like it you can subscribe there and then.
Lots of people are starting newsletters now. Social media is disintegrating around our ears, and those platforms that aren't actively falling apart are stopping people from reaching the very audiences who have chosen to hear from them. You can follow a person or a page on Facebook, but that doesn't mean that Facebook's algorithm is ever going to show you their posts. Newsletters allow us to give you what you've asked for – our news!
But finding great new newsletters is easier said than done. That's why I've signed up for The Sample, both as a recipient and as a newsletter. And if you subscribe via my link, my newsletter will get sent to an extra The Sample subscriber!
Why not give it a go?
Obligatory cat picture
It was Christmas 2009. Grabbity and her brother, Sir Izacat Mewton, were not yet a year old. We took them with us down to visit my parents in Dorset and left them there for a few days over the New Year as we took a holiday in Lanzarote.
Here, Grabbity sits demurely under the Christmas tree, having not yet realised how much she loves to eat tinsel. She discovered that joy a year later, when she ate a length of tinsel and yacked it up into both my walking boots at once. We now have to be careful to keep tinsel and foil ceiling decorations away from her, or risk lashings of sparkly vomit.
That's it for this year! I hope you have a delightful holiday season, however you celebrate.
Merry Christmas and Happy New Year!
Suw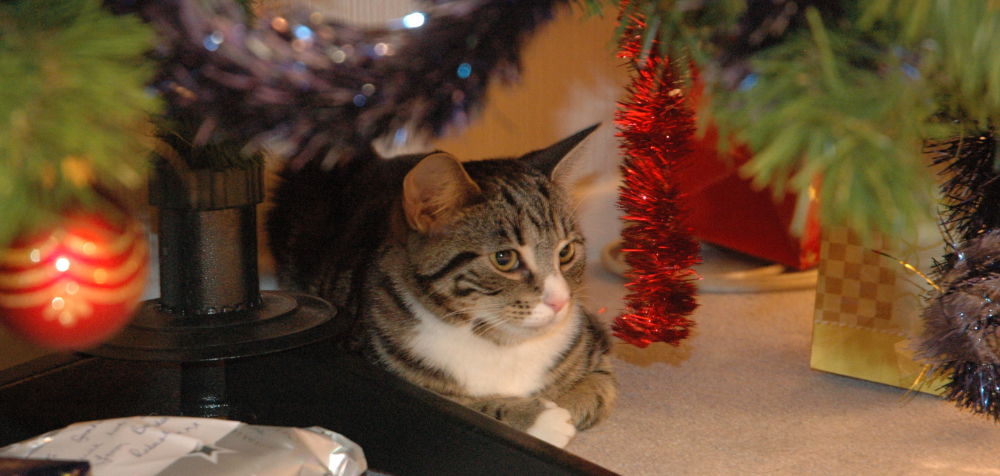 { Comments on this entry are closed }