Hello there,
Last week I mentioned Discoveries 2023, the Women's Prize Trust/Curtis Brown Creative/Audible literary competition for women. Despite having absolutely no faith at all that they'll be interested in a pandemic novel, I have submitted anyway. It's my first submission of 2023, but it definitely won't be my last as I aim for 100 rejections in the next twelve months. (See below for more on that!)
Suw's News: Introducing Fieldwork
Back in October, I mentioned a new short film project that was on the verge of being greenlit, and I'm excited to report that we've now confirmed the budget for the first phase of work, which starts this week.
Fieldwork, which I'll be working on with Prof Thorunn Helgason and Dr Pen Holland, will explore the real life experiences of ecologists in the field. It has grown out of an existing scientific project, the International Collaboration on Mycorrhizal Ecological Traits, which I've been working on with Thorunn, Pen and Prof Bala Chaudhary since 2019. Our international group has already produced a paper on mycorrhizal trait classification and supported women and minorities in science via the Finding Ada mentoring program. 
Based on interviews with field scientists, Fieldwork will put ecology in front of a general audience to raise awareness of the subject and, hopefully, encourage young people to study and pursue an ecological career. It will also provide a unique opportunity for scientists to become a part of a very different kind of public engagement activity. 
Our aim is to create a conversation about people's experiences in the field, normalising the presence and experiences of underrepresented people – to each other and to the wider community – and breaking down stereotypes.
It is really exciting for these two sides of my life, the creative writing and the scientific, to come together in one project. That hasn't happened since the report on the media response to the 2010 eruption of Eyjafjallajökull that I wrote for Chatham House. I really can't wait to get my teeth into it, though we do need to complete the ethics approval process first!
Review: About Writing by Gareth L Powell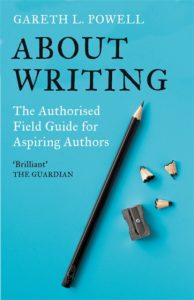 There are two reasons why I love Gareth L Powell's new book, About Writing. The first is that he is very clear about who the book is for – people who know little to nothing of the writing process or the publishing industry – and he says so up front. Lots of the books about writing that I've read assume some level of existing knowledge or experience upon which the author wishes to build. They also quite often focus on what the author knows, rather than what the reader needs to know.
Powell doesn't make that mistake. Instead, he's thought about what questions aspiring authors might have and sets out to answer them. He assumes nothing, and approaches the subject of how to become a writer with the gentle compassion that anyone who follows him on Twitter will immediately recognise.
The second reason I love this book is how personal it is. Powell frequently shares his own experiences, which makes writing feel possible (even if making a living from it is hard). There's a reason that the book's subtitle describes it as a "field guide", because it really does feel like you're being taken on a journey, a pleasant and companionable walk through the landscape of authorhood.
Although I'm not in About Writing's target audience, I really enjoyed reading it. It just felt like I was sitting in a nice country pub having a lovely chat about the realities of life as a writer.
If you are yourself an aspiring author, if you're at the very beginning of your authorial journey and especially if you've not really read any books about writing before, I would highly recommend About Writing as your first step. All the story theory stuff can come later, once you've got your feet firmly on your own writing path.
Read this: Aiming for 100 rejections
This week, I read a great piece from 2016 about how you should aim for 100 rejections a year.
I like the logic of it: Collecting rejections is a way not just of measuring the work you've put in to getting your work in front of agents, editors and others, it's also a nice way to reframe rejection as something positive.
Getting rejected sucks. No matter how often you tell yourself that it's just part of the creative life, and how you shouldn't take it seriously, it can still hurt, if you put too much stock in it. I noticed a significant difference between how I felt about my novel rejections last year compared to my script rejections, and that was entirely down to how I felt about the submissions. The novel, being about a global pandemic, has an air of impossibility about it, rejection feels inevitable. So when the rejections came, they bounced right off. My script, on the other hand, felt much more saleable and I thought it was good work, so the rejections stung.
This year, though, I'm going to treat each rejection as a trophy. I cannot control the outcomes of my submissions, but I can control how many I make and how I respond to them. And seeing a rejection as a triumph – I did, after all, have the courage to put my work in front of people to be judged, and that's a triumph – helps make submitting easier.
Stop, look, listen: Lingthusiasm, ep 75, and Scriptnotes, ep 576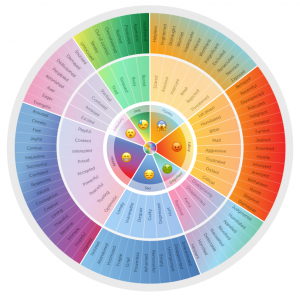 In episode 75 of Lingthusiasm, Love and fury at the linguistics of emotions, Gretchen McCulloch and Lauren Gawne look at how we categorise and name emotions, and how that changes from language to language. They also talk about emotion wheels, which group emotions into major categories and are, essentially, a visual thesaurus for emotions names.
I know that everyone bangs on about "show, don't tell", and that instead of saying "Ms Primrose felt angry" you should say something more along the lines of "Ms Primrose's chest tightened and she clenched her fists as the truth of Mr Asparagus's duplicity finally hit her", sometimes, you really do just want to say "Ms Primrose felt angry, so angry that she picked up the length of lead pipe and beat Mr Asparagus to death right there and then, in the middle of the school library".
It's all stylistic choice.
What I like about this idea of emotional wheels is that it lets you more easily ask, "What kind of angry was Ms Primrose?". According to this particular wheel, which I randomly selected from Google search, Ms Primrose is probably feeling let down and, more specifically, betrayed. Though she might also have ben feeling mad (poor choice of words there, AllTheFeelz), which would lead her to feeling furious and/or jealous.
So do we want to plough through all the physical sensations Ms Primrose is feeling, or do we want to take a shortcut and say that "Ms Primrose felt betrayed, her temper flashed to furious and she picked up the length of lead pipe…"? You get the drift.
After listening to this episode of Lingthusiasm, I listened to Scriptnotes, episode 576, What you're looking at, which made exactly the same point. At 19:50, John August and Craig Mazin begin  talking about how word choice affects what we see in our mind's eye, inspired by a thread by writer David Wappel and taking in examples from Jane Austen and Charlie and the Chocolate Factory.
Wappel's example compares "Sally reaches in to her back pocket" with "Her hand slips into her back pocket" – functionally, these are the same, but in the first you picture Sally and then think about her hand, and in the second you're picturing a hand slipping into a pocket. In screenwriting, this specificity changes the shot type from wide angle to a close up. In novel writing, the first is neutral, but the second suggests some sort of emotional component, some furtiveness.
August and Mazin also talk about the problem with very general words, like 'smile', which is vague to the point of meaninglessness. There are a gazillion types of smile, so which kind of smile are you really talking about? At this point, you need specificity, so how best do you achieve that?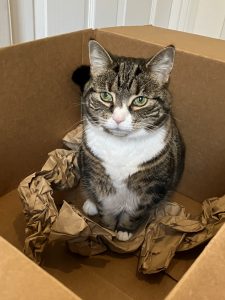 It's always a matter of thinking about word choice. It feels nigh on impossible to think that deeply about every word in your screenplay or novel, so the trick really is getting your subconscious to think about it for you. And that comes only with practice.
Obligatory cat picture
There's no such thing as an empty box.
That's it for this week!
All the best,
Suw