I had three goals for today's work:
Find out of a single strand stem stitch for the edge of the sword works as well as the double strand, and I have to say that I don't think it does. It just doesn't really stand out.
Find out if I should fill the whole sword. I think half would be better (I did just over half as I originally thought I'd fill the whole area).
Whether I should use satin stitch or French knots, and I think the knots are better in this instance.
Not much left to test now, just the knight's robe, and a few more leaf tests. Then I'll be ready to set up the real thing!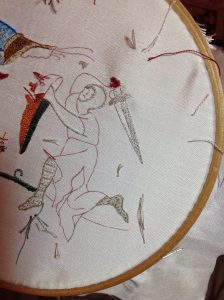 { Comments on this entry are closed }