Plus podcasts about The Good Place and Asterix, some writer's strike news, and extremely fluffy snow leopard cubs.
Hi there,
This issue of Word Count is brought to you from the past! I'm going to be spending the weekend in what is promising to be a very rainy Llandudno, where I will be saying an enthusiastic 'Diolch' to every shopkeeper, regardless of whether they look like they might speak Welsh or not, so I wrote this last Thursday. Let's hope it ages well!
Arthur C Clarke Award winner announced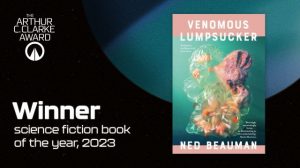 This year's Arthur C Clarke Award, which is presented for the best science fiction novel published during the previous year, was won by Venomous Lumpsucker by Ned Beauman.
The venomous lumpsucker is the most intelligent fish on the planet. Or maybe it was the most intelligent fish on the planet. Because it might have just gone extinct. Nobody knows. And nobody really cares, either. Except for two people.

Mining executive Mark Halyard has a prison cell waiting for him if that fish is gone for good, and biologist Karin Resaint needs it for her own darker purposes. They don't trust each other an inch, but they're left with no choice but to team up in search of the lumpsucker. And as they journey across the strange landscapes of near-future Europe – a nature reserve full of toxic waste; a floating city on the Baltic Sea; the lethal hinterlands of a totalitarian state – they're drawn into a conspiracy far bigger than one ugly little fish.
Chair of the Judges, Dr Andrew M. Butler said:
"Ned Beauman's Venomous Lumpsucker, is a biting satire, twisted, dark and radical, but remarkably accessible, endlessly inventive and hilarious."
And Award Director Tom Hunter said:
"Venomous Lumpsucker takes science fiction's knack for future extrapolation and aggressively applies it to humanity's shortsighted self-interest and consumptive urges in the face of planetary eco-crisis. The result is a bleakly funny novel where the only hope for our species is working out the final punchline before it's delivered."
Read this: The music of Guardians of the Galaxy
I loved this article from Cole Haddon about the music that writer-director James Gunn chose for his Guardians of the Galaxy trilogy.
It had never really occurred to me that the music might have meaning, but Haddon makes a convincing argument that Gunn uses it to explore the stories of "children trapped in adult bodies, crippled by arrested development, almost all of them struggling with (typically lethal) parent issues" and the "dangerous allure of nostalgia".
I really need to sit down and watch all three again now!
Stop, look, listen: Comfort Blankets 6 and 12 – Asterix and The Good Place
I listened to two utterly delightful episodes of Joel Morris's podcast, Comfort Blanket, last week. The first with comedian and writer Bec Hill about Michael Schur's comedy, The Good Place, a show that I love so much I've seen it from beginning to end five times now. There were two particular insights into the show that utterly blew me away and that I was slightly cross I hadn't spotted myself. I won't tell you what they are, though – you'll have to listen to find out!
The next episode I listened to was with comedian Jay Foreman, who talked about his enduring love for Goscinny and Uderzo's Asterix. Again, I learnt so much not just about Goscinny and Uderzo themselves, but about how smart these books really are – that's not necessarily something you notice as a kid. I had three Asterix books at one point, but I now have the disturbingly strong urge to go buy the whole lot.
Anyway, subscribe to Comfort Blanket. It has become one of my favourite podcasts, not least because it does exactly what it says on the tin.
Strike news: AMPTP's offer doesn't impress
I'm taking a bit of a risk writing this now, days before this newsletter will end up in your inbox, as it's likely to go out of date before it gets sent!
However, the Writers Guild of America and the Alliance of Motion Picture and Television Producers (Netflix, Amazon, Apple, Disney, Discovery-Warner, NBC Universal, Paramount and Sony) went back to the table a few weeks ago.
Finally, early last week, the studios published their response to the WGA's demands in a clear attempt to do an end run around the Guild and appeal directly to the writers themselves. The Wall Street Journal writes, "Some members of the AMPTP hope that if their offer is seen as compelling by a significant amount of the membership […] it will create tension within the union."
Despite both sides agreeing to a media blackout, the AMPTP has repeatedly leaked to the media. The WGA, on the other hand, has generally been reserved in its response, but the statement on this offer from the studios is full of quiet fury:
We accepted that invitation and, in good faith, met tonight, in hopes that the companies were serious about getting the industry back to work.

Instead, on the 113th day of the strike – and while SAG-AFTRA is walking the picket lines by our side – we were met with a lecture about how good their single and only counteroffer was.

We explained all the ways in which their counter's limitations and loopholes and omissions failed to sufficiently protect writers from the existential threats that caused us to strike in the first place. We told them that a strike has a price, and that price is an answer to all – and not just some – of the problems they have created in the business.

But this wasn't a meeting to make a deal. This was a meeting to get us to cave, which is why, not twenty minutes after we left the meeting, the AMPTP released its summary of their proposals.

This was the companies' plan from the beginning – not to bargain, but to jam us. It is their only strategy – to bet that we will turn on each other.
Strikegeist has the AMPTP proposal, and Deadline an analysis, though to be honest, I don't know enough to pass comment on whether that analysis is even-handed. Defector.com certainly isn't impressed with the trades' coverage of the strike, pointing out that Variety, The Hollywood Reporter, and Deadline are all owned by Penske Media Corporation.
In a follow-up covering the WGA response, Deadline says, "its seems the AMPTP and top CEOs may have strategically overplayed their hand."
On Friday, UK time, the WGA released a more detailed statement, saying that the AMTPT was "seeming to give while limiting the actual gains" and calling their proposal "neither nothing, nor nearly enough".
And if what I've seen on Twitter is anything to go by, all that the AMPTP has achieved is to stiffen writers' resolve.
Obligatory cat picture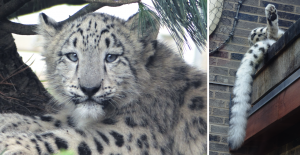 In April 2018, Cleveland Zoo's snow leopards Sombra and Amga had three cubs –Bodhi, Omid and Zara. We went to visit them in the August, and oh my word they were the cutest, fluffiest things. Just look at that ear furniture! (That really is what the fluff inside a cat's ear is called, btw. Ear furniture!)
One of the adults was asleep on a roof, though I very much advise not yanking the bell pull.
Right, that's it for this week! I'll be back in a fortnight with another round-up of interesting links.
All the best,
Suw
{ Comments on this entry are closed }