Plus massive Bloomsbury profits, a brief history of Marvel Studios, TikTok owner ByteDance becomes a publisher, two writing craft podcasts, and the escape room someone ought to lock me in.
Hi there,
This newsletter was actually written a few weeks ago, just before I went on holiday. But whilst I was away, the SAG-AFTRA strike kicked off and I decided to cover that and punt this for a fortnight, so this is the email you would have received then if that hadn't happened!
My reading at that time was dominated by publishing and film/TV industry news, and generally not the good kind. Plus I've a couple of good writing craft podcasts, and an escape room I think I need to be locked in.
BAFTA Rocliffe Competition 2023 opens its doors
The BAFTA Rocliffe screenwriting competition is open for entries until 17:00 on 18 September 2023, and cost £46 per submission, although a bursary is available. TV drama, dramedy and comedy-drama scripts are eligible for entry, but not sitcom scripts.
Prizes include an industry online showcase at BAFTA with professional actors and directors, a one-to-one development discussion and two years' access to BAFTA events and workshops, plus access to their alumni program and a bespoke career planning session. Slightly more importantly, all entries, which comprise ten pages of script, will receive a feedback report, so it's worth entering just for that.
Read their Ts&Cs for more info about eligibility and how to submit.
GQ spikes article critical of Warner Bros. Discovery
In shenanigans worthy of Barbara Streisand, GQ spiked an excoriating piece by Jason Bailey about Warner Bros. Disovery's CEO, David Zaslav less than a day after it was originally published, ensuring that the Wayback Machine's version immediately did the rounds on Twitter.
Zaslav became the Big Bad of the WGA writers' strike when in early May he said that writers' "love for the business and a love for working" would bring them back to the table. Not, y'know, a decent pay offer, to pull a random idea out of thin air.
And he isn't just really good at putting his foot in his mouth, he's also been great at setting some appalling precedents, such as binning Batgirl and Scoob!: Holiday Haunt after they had been mostly completed because it was a convenient tax write-down.
Bailey's piece is a catalogue of Zaslav's awfulness, one that apparently GQ wouldn't stand behind because, almost certainly, someone got on the phone and threw a strop.
The Golden Age of Streaming sputters out
I remember walking through  Sheboygan, WI, back in about 2017 or 2018 when I lived there, chatting with my husband about how the streaming TV bubble was gonna burst at some point. It lasted significantly longer than I thought it would (thankfully), but its number's up according to Vanity Fair.
Surprise, surprise, Zaslav features, and is described as "on a mission to drive shareholder price up by cutting costs and easing the debt load" at Warner Bros. Discovery. Vanity Fair lets him off at least some of the hook and instead lays the blame for the streaming industry contraction on Wall Street.
"Wall Street changed the rules of the game," says Marc Guggenheim, a veteran showrunner. Instead of chasing subscriber growth with great content, streamers are now directed to focus on profitability. "Overnight, all the streamers will suddenly be measured by a completely different yardstick that they weren't built to meet."
Yay, late stage capitalism.
It's a long read, but it's really worth your time.
Watchers become readers
Talking of TV's boom mutating into a bust, some of that is because running multiple streaming subscriptions rapidly becomes expensive. I've recently cancelled Netflix, in part because of their intractability over the WGA's really very reasonable demands, but also because we already have more TV that we can feasibly watch.
And I'm not alone in ditching subs. Bloomsbury's sales have soared as people drop streaming services in favour of buying more books, because it's cheaper, says the FT.
Paperback books have become more attractive as an affordable source of entertainment as people relinquish subscription services such as Netflix, according to the head of Bloomsbury Publishing, as the group reported record annual sales and profits.
And yet authors are still paid a pittance. Hello again, late stage capitalism.
Also:
Sales growth was boosted by the success of the series by fantasy author Sarah J Maas. Bloomsbury has contracts for seven new titles with the US writer, whose success is partly attributable to the BookTok social media trend on TikTok and whose sales grew 51 per cent in the year.
Keep that quote in your pocket for a moment.
How Marvel became a movie-making juggernaut
I'm quite partial to the occasional Marvel movie, so was fascinated by this very long read in the New Yorker about how Marvel Studios and the Marvel Cinematic Universe came to be. It also raises the question of how long the MCU can keep expanding, and the problems that arise from having one person – Kevin Feige – as a creative bottleneck.
Scientists predict that our own universe will begin to contract in the next hundred million years; the Marvel Cinematic Universe, having reached its outer limits, may be subject to a similar law of nature.
As I've heard over and again – usually in wistful but not hopeful tones – from people in the book industry that maybe producing a bit less content that you know is of higher quality is better than flooding the zone and crossing your fingers.
TikTok becomes a publisher
In news literally no one wanted to hear, TikTok owner ByteDance has decided to become a publisher. Renowned for shifting huge numbers of books via #BookTok, this foray into publishing is a further development of what Cory Doctorow has described as the enshittification of TikTok.
TikTok has accumulated a massive audience based at least in part on its users recommending stuff they like, including books. But TikTok has subverted these recommendations by "heating" certain videos, ie ranking them artificially high in their algorithm, thus pushing them out to more viewers than would otherwise have seen them.
If ByteDance starts publishing books, they will absolutely then push those books harder on TikTok than anyone else's books, and no one will be able to stop them because they'll own the entire supply chain. ByteDance is, of course, taking a leaf out of Amazon's book, and not just in terms of dominating their own vertical (ie all parts of the supply chain). They are also planning to open an online store too which, given that a lot of physical bookstores already have a TikTok shelf, could wind up as bricks-and-mortar too.
As with Amazon, this is not going to go well for other publishers who had somewhat hoped that TikTok would save them. Publishers are now listing books both online and in bookstores under the headline TikTok Made Me Buy It, a branding disaster that needlessly cedes credit for the discovery of a great book to TikTok.
Let's face it, most publishers have no idea how TikTok works, no idea why certain books take off and other don't, and even less idea of what to do to leverage the site's popularity. Very soon, TikTok won't bother with them, because it will have its own books to push.
Now, remember that quote from the Bloomsbury story above? Hm-mmm.
Stop, look, listen: The Writers Panel – Karen Graci and Marc Bernardin
All the screenwriting podcasts I listen to have stepped away from any content that might be interpreted as promoting work being done for the struck studios, which has had a delightful side effect: More discussion of the craft of writing!
The two most recent episodes from Ben Blacker have been really good from a craft perspective. Karen Graci talks about getting into a character's unique point of view, and Marc Bernardin gets into world-building. Both are well worth a listen!
Tweet of the week
OK, so it's Tweet of the Fortnight really, but that doesn't rhyme.
Tom Gauld imagines the escape room that pretty much every author ought to be locked in at some point or other.
Read this: Michael Marshall Smith and Julian Simpson in conversations
I really loved this conversation between Michael and Julian about their routes into writing, their experiences and their careers. I love Julian's answer to the question of why he keeps writing, despite how difficult it is:
I guess the simplest answer to the question is that I don't know how to do anything else. I still find myself, thirty-some years on from that fateful decision, walking down the street, watching other people doing their jobs and thinking, "Could I do that? If this all ended tomorrow, is that a thing I could do?" And the answer is invariably no. So the complete lack of options is certainly a factor somewhere in the thinking.
*cries in self-employed*
With Ada Lovelace Day still on shaky financial ground, I am again thinking about having to get a job in November, and I'm again wondering what the everliving fuck I would actually do. Answers in the comment please. No, please. Because I have no clue.
Obligatory cat photo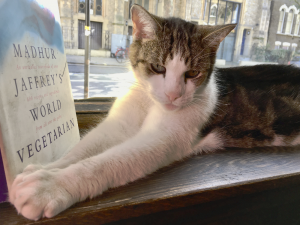 Back in 2017, I was staying with a friend in London ahead of Ada Lovelace Day Live at the Royal Institution and we went out for dinner at The Lord Stanley where I met this handsome fellow, Alfie. I'm pretty sure Alfie had no interest at all in the vegetarian recipes of Madhur Jaffrey, but he was guarding it as if he life depended on it.
Right, that's it for this this time round! I'm working on another essay for you, so keep an eye on that coming up some time this week.
All the best,
Suw
{ Comments on this entry are closed }