Practice makes perfect, or at least, slightly less wobbly.
Update: I was in a rush last night, but yesterday I started on the lessons I found on zanerian.com, the first being:
I also had difficulty again with the Indian Red ink, which might be because I can't actually dip the whole nib in because the neck of the jar is too narrow. I'll have to see if I can find an appropriately sized and shaped receptacle into which I can decant some ink. The blue definitely worked better, though. If you look carefully you can see my shoulder getting tired at the bottom.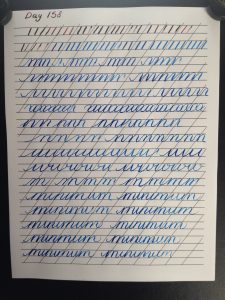 { Comments on this entry are closed }