The crochetpocalypse is over, as last night was the Women in STEM Amigurumi workshop I'd agreed to do and had been working towards. In the end, we had a fun evening, although most of the attendees were beginners so I spent the time teaching the magic ring and double crochet (single in USian). Mead Library did an amazing job of putting together the kits, and I'm looking forward to running a beginners course with them next year.
But tonight I had a chance to do the last test for the embroidered knight and snail, which was a mixed colour leaf. I just wanted to check that it would work the way I expected it to.
So, soon I shall be ready to do the real thing!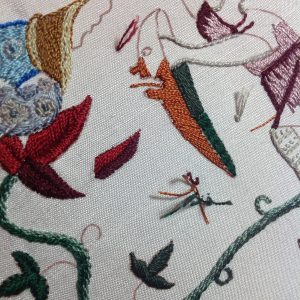 { Comments on this entry are closed }