Plus congrats to Dr Lucy Rogers, behind the scenes of Ghosts, and build your confidence.
Hi there,
Today is Ada Lovelace Day, which means that I'm writing this last weekend, in a quiet moment, a bubble inside the panic. The run up to big events is always stressful and every year I ask why I do this to myself, and yet every year I seem to do it again.
Webinar: Lauren Beukes in conversation
I'm going to be chatting with the award-winning author of Zoo City, The Shining Girls and this year's Bridge, Lauren Beukes, about how she uses her journalism skills to research her novels, the ethics of research, and how to reach out to and set up interviews. She'll also be talking about how her diagnosis of ADHD changed her life, the impact that moving to the UK had on her writing, her experience of seeing The Shining Girls adapted for TV, writers block, plus a lot more!
Join us online at 19:00 BST on Monday 23 October. Tickets are free.
WAIW?: What can writers learn from football? 
Last week's Why Aren't I Writing? was an exploration of the meaning of 'practice' for writers. Many might think that practice, in the way that footballers and musicians mean it, for writers is writing, but I disagree. You don't start learning to play footie by diving straight into a match and you don't start learning clarinet by playing a symphony. You do exercises first. But what does that look like for writers?
Putting that post together provided me with a surprising bit of inspiration, not just in terms of my own practice, but how I can help other writers rewaken their observational skills. So keep your eyes out for an email soon (ie after Ada Lovelace Day!) introducing a new program for premium subscribers.
Read this: US author incomes dip below poverty level
Author income surveys never make for inspiring reading, highlighting as they do how little writers bring in from practicing their craft, but this new survey from the Authors Guild in the US is particularly depressing. They found that "median book and writing-related income for authors in 2022 was below the poverty level". Ouch.
The survey, which drew responses from 5,699 published authors, found that in 2022, their median gross pre-tax income from their books was $2,000. When combined with other writing-related income, the total annual median income was $5,000.
This is why I so often talk about how I'm trying to find a way to support my writing habit, given it seems unlikely that writing will ever support me.
Read this, two: On the other hand…
Publishing often feels like a lottery and like all lotteries it runs on the unfettered hope that we might one day get lucky. I'm as guilty of this as the next person, but it's still delightful to see that Dr Lucy Rogers has sold Up: A Scientist's Guide to the Magic Above Us to Transworld for six figures. Well done Lucy!
What I'm watching: Ghosts, the final season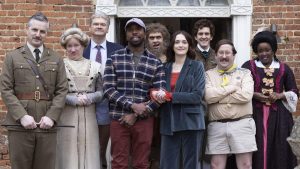 Ghosts (UK) is drawing to a close and I'm enjoying the final season with a mix of delight and bittersweetness. S5E1 was honestly some of the funniest comedy I've seen for a while and I shall be gutted when the final episode airs at Christmas.
Writer Julia Raeside got to visit the set whilst Ghosts cast and crew were filming and has written pieces for The Times (£) and her own Substack, so if you'd like a few behind the scenes insights and photos, those are the links to click.
Tip-top tip: Build your confidence
Short tweet thread from LJ Ross about the importance of developing your own self-confidence. Confidence may feel like something you either have or don't, but it's not, it's something you can work on and develop. And as Ross says, if you want to be a writer you're doing to need to find ways to nurture your confidence.
Obligatory cat picture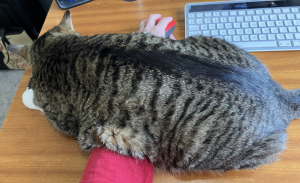 Copurrnicus comes to cuddle me at my desk nearly every morning now, sometimes more than once. He likes to tuck himself in between me and my keyboard, or, as he did last week, drape himself over my arms, which can make it somewhat challenging to write!
That's it for this week. Keep an eye out for a special email once ALD is over about my new offering for paying subscribers, and maybe consider becoming one yourself!
All the best,
Suw