I posted this on Facebook on 10 Nov 18, but Facebook has a habit of making old posts unfindable, so I'm archiving it here. 
Update 3: Great article from Wired that's worth your time and consideration: https://www.wired.co.uk/article/iceland-advert-banned-christmas Also, yet more links at the bottom
I rather feel the need to have a little word about this Iceland ad about palm oil, because a lot of folks have gotten very enthusiastic about it but unfortunately, the whole subject is just a little bit more complicated than it seems.
Firstly, the ad wasn't "banned", that's just marketing spin from Iceland. Greenpeace produced it a while ago, it clearly didn't get any traction so they teamed up with Iceland to turn it into a TV ad. Except political ads, which this is because it was made by a political campaigning group, aren't allowed.
Clearcast, who regulate this stuff, say:
"Clearcast is the body responsible for clearing ads on behalf of the four major UK commercial broadcasters.
"We assess all ads against the rules of the UK Code of Broadcast Advertising; Clearcast is not a regulator and we do not ban ads. The Iceland ad submitted to us is a Greenpeace film which has been appearing on the Greenpeace website for a number of months.
"The specific rule Clearcast and the broadcasters have considered is:
"An advertisement contravenes the prohibition on political advertising if it is:
"An advertisement which is inserted by or on behalf of a body whose objects are wholly or mainly of a political nature.
"Clearcast's concerns do not extend to the content or message of the ad."
So no, it wasn't "banned", it just contravened very well known rules, and Iceland are manipulating you to think that they are somehow being silenced. That's just bullshit.
Secondly, let's have a little chat about palm oil itself, which is where things get really, really complicated.
High demand for palm oil, we all know, has resulted in the destruction of habitats and biodiversity, displacement of native peoples, and the release of carbon dioxide. Not good. I think we can all agree that that's actually more than not good, it's really fucking bad.
At the same time, palm oil is in so many things, it would be very difficult for us to end our dependence on it. But we should still boycott it, right? Because every little helps?
Well, maybe not, actually (see links).
1. What would we replace palm oil with? The oil palm is amazingly productive, and there's nothing that will produce the same amount of oil using the same level of resources. We'd still need an oil of some sort, but we'd need to use three times the amount of other oil producing crop to replace all the palm oil, which would require three times the land.
2. Oil palms use less in the way of fertiliser and pesticides than similar oil crops. Replacing it with something else will also be worse for the environment because it would require more fertiliser and pesticide over much more land.
3. People farming oil palms would have to make a living growing something else. What? And what impact will that have on the environment?
4. Demand for palm oil is expected to double by 2022, which means that the problems with replacements/alternatives is going to more than double.
5. Palm oil is actually healthier for you than some alternatives, such as partially hydrogenated oils, that are chock full of trans fats. Replacing palm oil with partially hydrogenated oils would result in widespread damage to public health.
6. Why do we even use palm oil? Well, its semisolid at room temp, which means that it's a vegetarian alternative to animals fats. How do we ask people to eat less meat, and also say no to palm oil?
So what's the solution?
Don't try to boycott palm oil, instead, put pressure on companies to use sustainable palm oil. The Roundtable On Sustainable Palm Oil is a start, though it could and should go further.
If you want to do something, then pressure companies that use palm oil to sign up to RSPO, and to go further in their commitments to create a sustainable industry.
Indignation and outrage-filled videos from Greenpeace are not going to solve this problem. Creating demand for sustainable palm oil will. We have that power. We can create that demand. So I suppose Iceland is right in one way – we can make a change, but it's not the change they are espousing.
https://www.smithsonianmag.com/science-nature/giving-up-palm-oil-might-actually-be-bad-environment-180958092/
https://www.theguardian.com/sustainable-business/2014/nov/26/10-things-you-need-to-know-about-sustainable-palm-oil
PS. Don't forget, Iceland is the company that trademarked a nation's name and takes companies from Iceland, the actual country, to court if they try to use the word to brand their products. They really aren't fluffy bunnies.
PPS. The University of Kent says:
"Iceland's move to ban palm oil products, rather than work with the industry to seek sustainably-sourced solutions, could be viewed as a step backwards. Environmentally-conscious consumers should demand palm oil from certified sources, but avoiding it altogether runs the risk of putting pressure on other crops that are equally to blame for the world's environmental problems."
They also say that "Compared to other sources of vegetable oil (e.g. rapeseed and soybean oil), palm oil yields up to five times the oil per unit of land and requires far less pesticide and fertiliser."
Five times!! Do we want to clear cut five times more land so that we can switch to rapeseed or soy? I don't think we do.
https://www.kent.ac.uk/dice/news/index.html?view=2553&fbclid=IwAR13_XBiDq07R7VBo2a-zHxhqC20GTSdKAIuoxg-09XfxkTZ2iK1MLZm53M
Also, Iceland is not walking the talk one little bit. Ethical Consumer says Iceland as the "Worst Rating for Palm Oil". Hypocritical, much?
https://www.ethicalconsumer.org/palm-oil-free-list
UPDATE 20 Nov 18: Iceland have removed their 'worst' ratings section and replaced it with this explanation:
"Iceland has stated, 'By the end of 2018, 100% of our own brand food will contain no palm oil. We are the first UK supermarket to commit to removing palm oil from all own brand food.' When we are sure that this commitment has been implemented we will update Iceland's rating."
Here's a screenshot of that particular section from Google's page cache.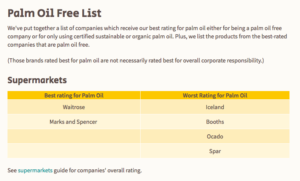 It seems to me to be somewhat generous of the Ethical Consumer to remove Iceland's ratings absent any actual evidence that they've taken any of RSPO's recommended actions. As discussed, simply banning palm oil isn't a good response to the problem, so if that's what Iceland do, they are not actually helping things, they're still part of the problem.
Original post resumes:
Iceland is also at the bottom of the Groceries Code Adjudicator's table, and has "come under renewed criticism after failing to publish details about its compliance in the past 12 months".
https://www.thegrocer.co.uk/channels/discounters/iceland/iceland-fails-to-publish-gca-code-compliance-data/573614.article
The Groceries Code Adjudicator is "an independent statutory office responsible for enforcing the Groceries Supply Code of Practice and to regulate the relationship between supermarkets and their direct suppliers within the United Kingdom."
https://en.wikipedia.org/wiki/Groceries_Code_Adjudicator
Also, for those who are unconvinced by the Roundtable on Sustainable Palm Oil, you'll be wanting to look at the work of SEnSOR, Socially and Environmentally Sustainable Oil palm Research programme. SEnSOR is "testing the impact of the Roundtable on Sustainable palm Oil (RSPO): the major certification standard for sustainable palm oil. We are using cutting-edge scientific research to test whether RSPO standards are achieving the aim of improving the sustainability of palm oil production. Our team includes experts from across the environmental and social sciences enabling us to test impact across the full spectrum of issues that contribute to sustainability."
WWF on palm oil, from 2015:
"Reading the above, palm oil might seem like an evil crop, but in truth, it is not. The world continues to need vegetable oils and if this doesn't come from palm oil we could need nine times more land which could mean more deforestation, more habitat conversion and even greater releases of greenhouse gases. Boycotting palm oil is not the answer!
"What we need to do is support the production of sustainable palm oil which can be done by buying from companies who only use palm oil certified under the Roundtable on Sustainable Palm Oil, or the RSPO. The RSPO enables us to be confident that areas of high conservation value have been preserved, local communities have been supported and palm oil plantation managers are implementing best practices."
Palm reading: Should we buy or boycott products containing palm oil?
And actually, British companies lead the way in palm oil sustainability, from 2016:
https://www.wwf.org.uk/updates/british-companies-leading-way-palm-oil-sustainability
"Much loved British companies such as Marks and Spencer and Boots are 'leading the way' on sourcing sustainable palm oil according to 2016 edition of WWF's Palm Oil Buyers Scorecard."
And the scorecard from 2016 (Iceland doesn't make the list):
http://palmoilscorecard.panda.org/
Video from Kent Online, who talk to a palm oil researcher about whether palm oil should be banned:
https://www.kentonline.co.uk/kmtv/video/is-palm-oil-bad-for-the-environment-22966/
New Scientist from May 2018 about how palm oil is ubiquitous:
"Half of all the palm oil imported by Europe is turned into biodiesel and blended into conventional fuel to power cars and trucks. This misguided attempt to "green" fuels is actually tripling carbon emissions, not reducing them."
and
"Globally, palm oil production hit 65 million tonnes in 2017, nearly 20 per cent of which was used for biofuel, says Sathia Varqa of data firm Palm Oil Analytics.
"Demand for palm oil could shoot up to 140 million tonnes in 2030, with nearly 50 per cent of that being turned into biofuel, according to a report on palm oil for the Rainforest Foundation Norway published in December 2017 (see "Driving higher"). "There's an enormous risk," says the author, Chris Malins."
The article has a lot more to say, and in particular talks about reinstating abandoned farmland in Central Europe to grow rapeseed, which could be used for biofuels instead of palm oil. But "if the EU ends subsidies for palm-oil biodiesel, but keeps its overall biofuel targets, cars will be fuelled with soybean or rapeseed oil instead. This would push up their prices and make food producers switch to palm oil instead."
What we'd need to do is either ban foodstuff-based biofuels or switch to electric instead.
https://www.newscientist.com/article/mg23831764-400-the-real-palm-oil-problem-its-not-just-in-your-food/
Data on abandoned farmland: http://iopscience.iop.org/article/10.1088/1748-9326/8/3/035035