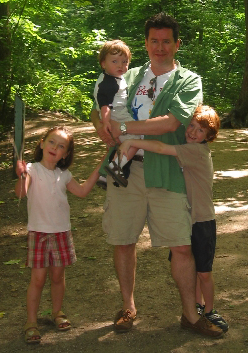 "Brace yerself," said Michael in a 2004 email, as he sent me a photo of himself and his three children, Charlie, Lily & Ruairi. "A tad more up to date," he said of this snap. "Gone, the floppy fringe of my Martin Fry period. Back to the wash-it-and-leave-it version."
Back then, Michael was in PR and I was struggling with a mutating freelance gig that had way more marketing and PR work in it than I was comfortable with, having no experience of either. We chatted on IM about the problem, and Michael offered to talk it all through with me on Skype. He spent a lot of time with me, helping me craft a strategy, pointing me at the best resources, and giving me the moral support I so desperately needed at the time. In short, I was at the bottom of a big hole and, from the other side of the Atlantic, Michael dug me out of it.
That was typical of Michael. No matter how busy he was, he always had time to help his friends out. He always found time for that call, that email, that chat, that pep talk.
We were friends mainly through electronic means, through our blogs or IM or IRC. Indeed, three days before that email, Michael had celebrated the opening of my new Corante blog about social media, Strange Attractor. Michael also blogged at Corante for a while, at Flackster, a blog which is still funny, sharp and insightful all these years later.
Michael was one of a small group of bloggers who opened their arms to this digital waif, back then looking desperately for purpose and peers. Michael gave selflessly of his time, support and friendship, and it was always a great shame that we didn't get to meet up more often.
When we did have the opportunity to get together, it was always for far too short a time. Conversation flowed so easily and Michael's sharp wit, always evident in chat and email, was even funnier in person. His intelligence, compassion and empathy shone through. No matter what I was going through, Michael would always have something wise and apposite to say. But our meetings were never long enough, never often enough.
Michael was diagnosed with oesophageal cancer over the summer. Kevin and I hoped as hard as we could that he would make a swift and complete recovery, but it was sadly not to be. We heard this morning the awful news that Michael passed away yesterday.
Michael leaves many legacies, including Toronto's annual HoHoTO fundraising event that he helped found and which has, to date, raised $165,000 for the Daily Bread Food Bank. He touched so many lives, directly and indirectly, and made those lives that much better. He was a great friend, despite the fact that he often protested that he wasn't.
Michael's was a life lived with love. Love for his wife, Leona, for his children, for his family, for his friends and for strangers, for the causes he believed in, for the little things and the big things. Michael, we love you and we will miss you.
{ Comments on this entry are closed }