This hand-made tome is the kind of book I can only aspire to make!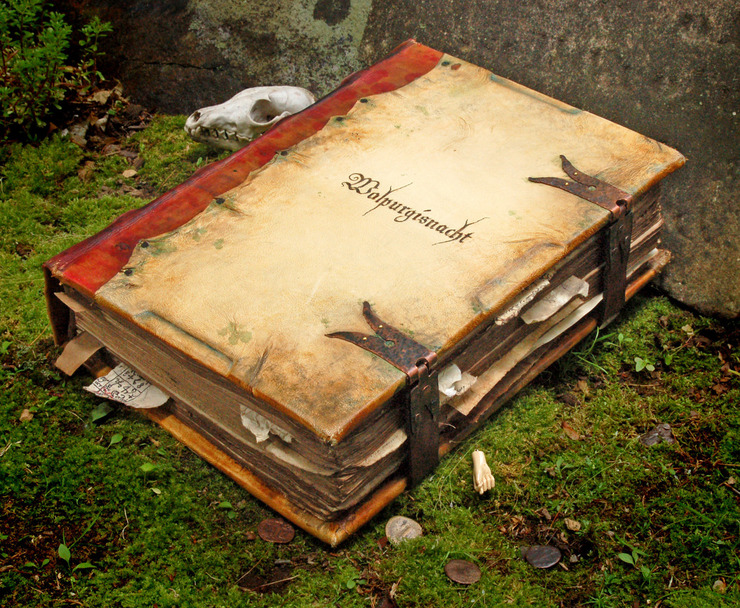 Created by Ross MacDonald as a prop for The House at the End of the Lane, a film by Steve Smith, this is a gloriously OTT book.
The interior is filled with collages of images and text from period books. Most of the text is German, taken from 15th century books. Many of the images are from the same period, for the sake of authenticity. But for the sake of what looks cool, there are images from other periods as well. The ones on this spread include two diagrams from Georg von Welling's 1735 Opus Mago-Cabbalisticum et Theosophicum, a number puzzle designed by Ben Franklin, a Celtic knot, a diagram of a microbe and a heraldic device. One other pages, there are bits of electronic schematics, some diagrams and handwriting from George Washington's school notebook, and diagrams of crystals and fungi from a 19th century dictionary.
Tor.com have a bunch of fabulous pictures, so it's well worth heading over there to read the rest.
I do hope that one day I'll have the skill required to make a book like this. It truly is gorgeous and would be a joy to own. Somehow, I imagine Neil Gaiman already has a whole library of books like this.
It also reminds me a little of The Book in The Books of Hay, although instead of human skin, The Book is bound in leather so black that it sucks all light in. Indeed, your eyes would struggle to see it, unless it wanted you to. But that's another story…
Hat tip: Kevin Marks